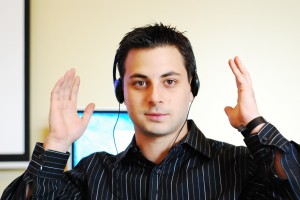 Dan Fastenberg is currently a producer for Reuters Video News in Washington, DC. He was previously an associate editor with AOL Money and the Huffington Post Media Group in New York. In that position, he covered labor and workplace issues for AOL Jobs. Prior to that, he was a reporter for TIME Magazine, also in New York. Previously, he worked for three years as a journalist in Buenos Aires, Argentina, first for the English-language newspaper The Buenos Aires Herald and then as a news writer for Reuters Video News. As a reporter, he covered the war crimes trial of Father Christian Federico von Wernich, of the 1976-1983 Argentine Dirty War, and was hired as a correspondent for the BBC World Service to cover the story. His work on von Wernich has been cited by the New York University Law Review, the Human Rights Quarterly and the Argentine Ministry of Foreign Relations.
He has also worked for Newsweek, the Council on Foreign Relations and Rock The Vote. He's been interviewed by radio stations WCBS and KTSA/ABC and on HuffPost Live. His work has been published by American Photo, AOL Real Estate, the Argentimes, Business Insider, CNBC.com, DailyFinance, Haaretz, The Huffington Post, Minyanville, Patch.com, RealClear, TheStreet.com and WalletPop. He is the former winner of a summer fellowship with the New York Press Association. His coverage of Argentine poverty has been cited by the United Nations Human Settlements Programme. He has interviewed a range of figures including Oprah Winfrey, former FEMA director Michael Brown, best-selling author Daniel Pink, Colombian President Juan Manuel Santos and comedian Amy Sedaris.
He has also written for various Columbia University publications during his undergraduate and graduate careers, including the Bronx Ink and the Columbia Political Review. While living in Argentina, Fastenberg had a bit part in Francis Ford Coppola's 2009 feature film, "Tetro." He also interned with the scripts department at Saturday Night Live while he was in college. He is a 2006 graduate of Columbia College, Columbia University, and as an undergrad he wrote a sports column for The Columbia Daily Spectator, entitled "Fast Times."
He can be reached at df2012 [at] gmail [dot] com.
(Photo by Yepoka Yeebo)